Sport
Arthur Giloyan's fights at various championship tournaments.
Sport is also a special kind of creativity. A different, creative process is hidden behind its power aspect.
I have always valued time and tried to distribute it rationally. Since my childhood I was professionally engaged in different kinds of sports: football, ping-pong, chess, sambo (art of self-defense), judo. I have also achieved success in study. Most of all I enjoy the process of creation of new strategies, therefore I prefer chess among different kinds of sports.
The World championship in Moscow, at "Luzniki" Arena
I tried to prepare my disciples as much as possible for fights both physically and psychologically, to make them confident in their forces. The fight ended with a victory of Ovagim Manusadzhanan on the ninth minute.
A fight of Arthur Giloyan's disciple
This CIS championship took place in St.-Peterburg. However, the fight ended not quite successfully: on the second minute, Kim got an injury and judges stopped the fight. All fights can be viewed by following the specified link.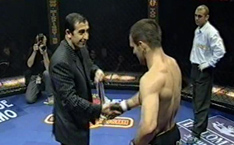 Rewarding
I participated in competitions in different countries not only as a fighter, but also was as a member of jury. Rewarding of sportsmen-winners was one of my honourable missions.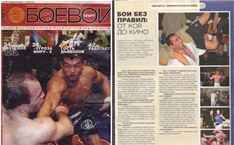 "Fighting" Magazine
Any competitions cause an emotional pressure and aggression in a person. I think that individual kinds of sports are optimum for physical and spiritual development.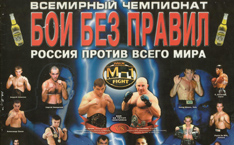 The poster
The poster shows fifteen Russian sportsmen who participated in the World championship against a combined team consisting of fighters of different countries.
Back
Back